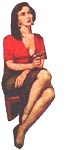 VINTAGE PAPERBACKS Good Girl Art
GGA Ringside Jezebel
---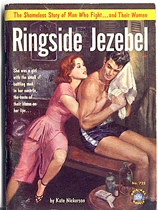 In the 1950s, girls' sports was almost an oxymoron. Girls were expected to support and cheer on male athletes, celebrate if they won, comfort if they lost. Most of our covers here echo the one on the left with the athlete (usually boxers) being adored by a mollish lovely with the smell of the lockeroom 'in her nostrils'.
I don't know of any covers that show women playing a sport except, of course, Wrestling. Girl Wrestling was not so much a sport as it was an exhibit for men (just as it is today). See the scarce wrestling covers below.
---
Click on Any Image to see full size cover reproduction, then your Browser's BACK function to return to this page.
| | |
| --- | --- |
| | The concept of Lady Wrestlers must have been a hard one for cover artists who needed to show an attractive young girl and still make us believe that she could prevail 'at the hands of bone-crushing men and passionate Amazons'. This one by the great Paul Rader almost meets that standard. |
| | A great Earle Bergey cover. A wonderful off the shoulders purple gown with a belly button. Typical boxing arena wear. Maybe she should become a Girl Wrestler to get more attention. |
| | "Ahh, just forget about it. Anybody could have run the wrong way." Another nice Bergey cover. |
Here are a few more: