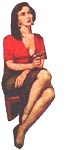 VINTAGE PAPERBACKS Good Girl Art
GGA Links
---
There are many sites on the Web to get more information about Vintage Papebacks, Pulps, cover illustrators and covers. Here are a few links to get you started:


Vintage Paperback Links

"Using search engines and tips from our correspondents, I am trying to maintain the most extensive possible collection of links to sites on the World Wide Web devoted to vintage paperbacks, to be updated at least monthly. Book dealers are listed only if they concentrate on vintage paperbacks or at least maintain them as a sub-specialty. This field is growing like cudsu - the last version of this list had only a few sites, and now look what's happening!" The place to start although this page has not been updated in a long time.

Lynn Munroe Books

Lynn is known for his research and well annotated catalogs. He is knowledgable in all areas of Vintage Paperback collecting and is THE expert on 60s and 70s sleaze - knows many of the pseudonyms and variants. His catalogs are now limited to on-line and well worth a look.

Paperback Parade

"GRYPHON BOOKS The home of: Great 'pulp fiction' Hard-hitting hardboiled crime fiction! excellent bibliographic and reference material! thrilling 'sense of wonder' science fiction! and your Collectable Paperback Headquarters!" Gary publishes Paperback Parade , the only periodical devoted entirely to Vintage Paperback collecting. He does a great job and if you have even the slightest interest, get a subscription.


Vintage Paperbacks

Bruce Brenner states "If you love vintage paperbacks, you have come to the right place. There are over 800 images of paperback books on this website." An easy to navigate site which goes beyond the GGA covers.

Australian Vintage Paperbacks

A lot of Vintage Australian paperbacks were modeled on American paperbacks, including titles, authors and even cover art. Many of the covers were repainted versions of their American counterparts and have become highly collectible here due mainly to the efforts of Graeme Flanagan, who is the author of the Australian Paperback Price Guide and this web site.

The Ace Doubles Collection

This site has images of many of the Ace Doubles (and singles) plus much information. If Aces are your passion, this is the place for you.

Book Scans

"The goal of the Bookscan Project is to provide a visual catalog of ALL vintage American paperbacks for roughly the first 20 years of paperback-sized books; those printed before 1960 and/or having a 25-cent cover price." An archive of almost 10,000 vintage paperbacks.

Strange Sisters

"An archive of vintage lesbian paperbacks" Lots of great images. Take a look.

Earle Bergey

Kevin Freeman has a terrific web site relating to pin-ups and Pulps which includes this page on Bergey who got his start in the Pulps. Includes some of his nice early 'Spicy' type girlie covers plus a short bio. Kevin also has a short piece on Paperback Originals.

Rare Antiquarian Books

Thousands of links to vintage and antique resources in every category! Includes links to Vintage Paperback sites.

Hooked on Books

Didn't find what you wanted in my store? Try Hooked On Books where you'll find hundreds of Vintage Paperbacks for sale. They even have cover images of all the books so you can see what you are getting.

Free Online Paperback Price Guide

Searching for vintage paperback values? You have come to the right place! IGuide is proud to host the online version of Graham Holroyd's Paperback Prices.

Vintage Paperback Archive

This website has been created to highlight the best classic paperback covers, show them digitally restored and place them in their proper context..

Rhoda Stanley Covers

"I'm assembling a collection of vintage paperbacks where Robert Stanley did the cover art AND where the lady on the cover was modeled by his wife Rhoda." Interesting idea and great covers..

If you would like your web page added to this list, please Contact Me.
Return to Home Page