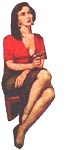 VINTAGE PAPERBACKS Good Girl Art
GGA Store
SALE LIST BY PUBLISHER
You won't find a lot of Key or Semi-Key books here, but if you are a completist, there are many obscure and later numbers listed. If there is more than one book of the same grade, I will always send you the better copy (yes there is some leeway in grading). Click here to see my GRADING Standards or here for BUYING information and terms of Sale. SHIPPING IS FREE ON ANY ORDER OVER $50 (US customers only when paying by check or money order. If you do use Paypal I cannot afford to provide free shipping. Sorry!). I also buy or trade for books on my WANTLIST and be sure to check my eBay listings.


The book lists don't seem to work on Mac's Safari so I suggest using Firefox.
Clicking on the blue Publishers Name at the top of the Sales Lists will take you to a page about that imprint.
Number
Title
Condition
Price
D-62

Giant Joke Book

VG-

2

D-175

Best Television Humor

VG

4

S-179

Squelches (Cartoons)

VG

5

D-184

The Big Ivy

VG

3

D-206

Great Day in the Morning

Abt VG

3

D-232

The Fixers (2)

VG

5

D-273

The Midnight Eye/Shakedown Hotel

VG/VG

5

D-278

This Bright Sword

Abt VG

3

D-325

July 1963

VG+

3

G-352

Fire and Morning (2)

VG+

4

D-355

The Beachhead Spies

VG

3

D-368

A Score to Settle/Hangman's Valley (2)

VG/VG+

4/5

D-392

Twisted Trail/The Man From Salt Creek

Abt VG/AbtVG

3

D-410

Buccaneer's Blade (3)

VG

3

D-416

The Big Question

VG+

4

D-523

Strike the Black Flag

VG+

3

K-105

Winter Quarters

VG

3

K-112

The Royal City

VG+

3

K-129

Conscience of the King

VG+

4

Check the Science Fiction Section for More Titles