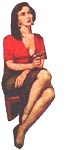 VINTAGE PAPERBACKS Good Girl Art
GGA Bantam Books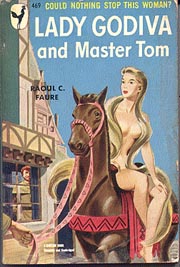 Bantam Books was founded in 1945 by Ian Ballantine after he left Penguin. The early titles were of a consistent high quality both in content and form. The covers were bright and tasteful; the books had somewhat whimsically decorated endpapers and the covers were laminated. By 1950 the covers became darker, more realistic and less interesting; the books less sturdy and are often found falling apart.
Bantam published many books but the imprint has never been extensively collected. There are a couple of exception including the highly coveted dust jacketed books and the many Fredric Brown titles.
As with Pocket Books, Bantam was not exactly a hothouse of GGA covers. Crudely painted covers like Lady Godiva were the closest they got. Step Right Up! and Tomboy are the only 2 Bantam covers on this site. Still, I believe that Bantam Books are under-rated as they published many quality books by good authors and have many nice covers by well known artists.